Disclosure: Some of the links below are affiliate links, meaning, at no additional cost to you, I will earn a commission if you click through and make a purchase.
A round-up of my favorite discoveries from the past month.
Bling Sneakers
Anyone who knows me knows I hate sensible shoes. So a recent work event that required several long days of manual labor inspired an internet-wide search for the perfect stylish sneakers. I ended up with these MICHAEL Michael Kors Allie Wrap Trainer Sneakers ($132.97 from Shoes.com). Not only are they actually cute, they were pretty comfy for 8+ hour days of running around like crazy.
Pleat Neck Print Top
As much as I love bargain shopping, there are moments when impeccably cut pieces are just worth the extra money and I felt that way as soon as I tried on this Chelsea28 Pleat Neck Print Top ($89 at Nordstrom). The print is subtle but not boring. The pleats on the neck are adorable. And the piece falls perfectly for a flattering, stylish look that's perfectly work appropriate, but fun enough to look fresh for dinner and drinks.
Beyond Basic Tees
Along with sneakers, I also sought out a couple of cute, comfortable T-shirts I could work in all day without looking too casual or boring. Of course, my first stop was Target where I picked up several cute pieces.
This Women's Short Sleeve Tee with Lace Hem ($19.99 from Target) has a nice long silhouette, making it a good choice if you're going to be doing lots of bending over, lugging boxes, and organizing gift bags, for example. Also, with the long lines, it's flattering with jeans or leggings: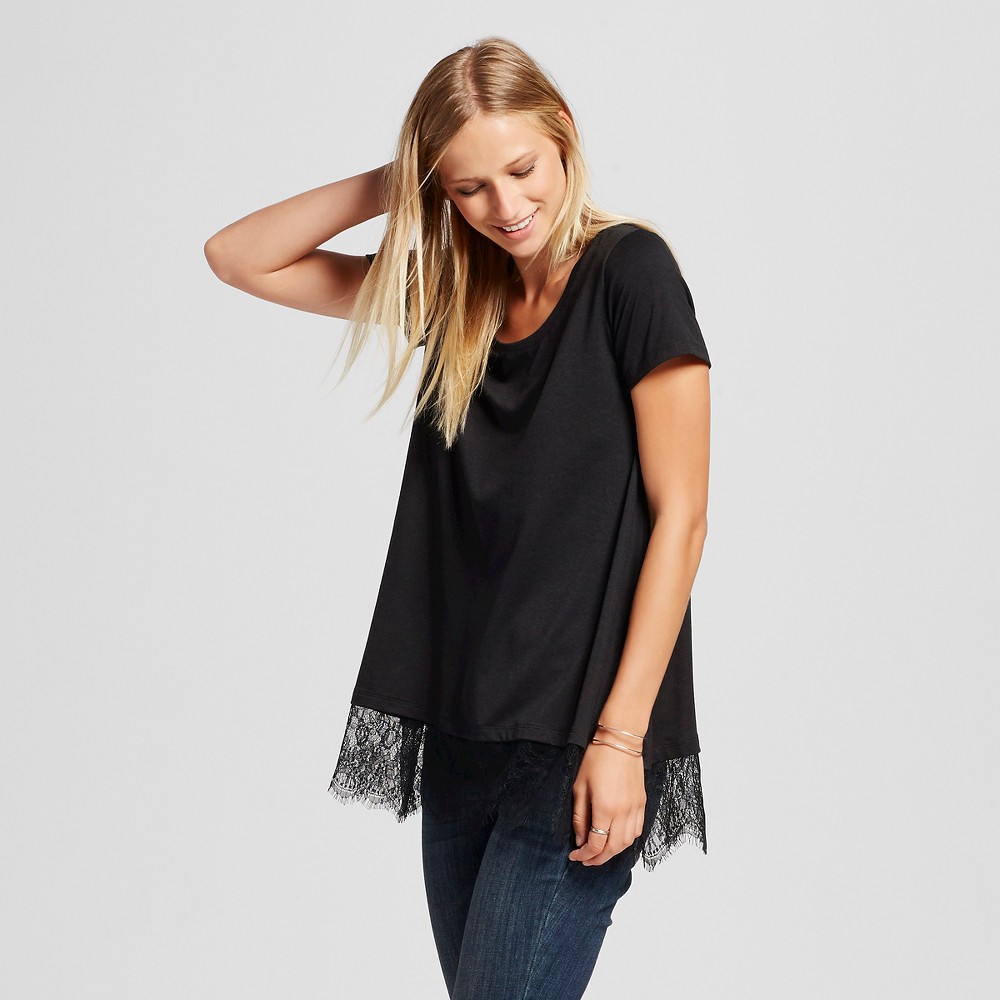 While at Target, I also picked up the Who What Wear Women's Elbow Sleeve Tee ($17.99). The basic black style is taken up a notch by gold metallic thread that's woven throughout. The nice, classic cut has already received compliments, even when I ran around town wearing it with yoga pants.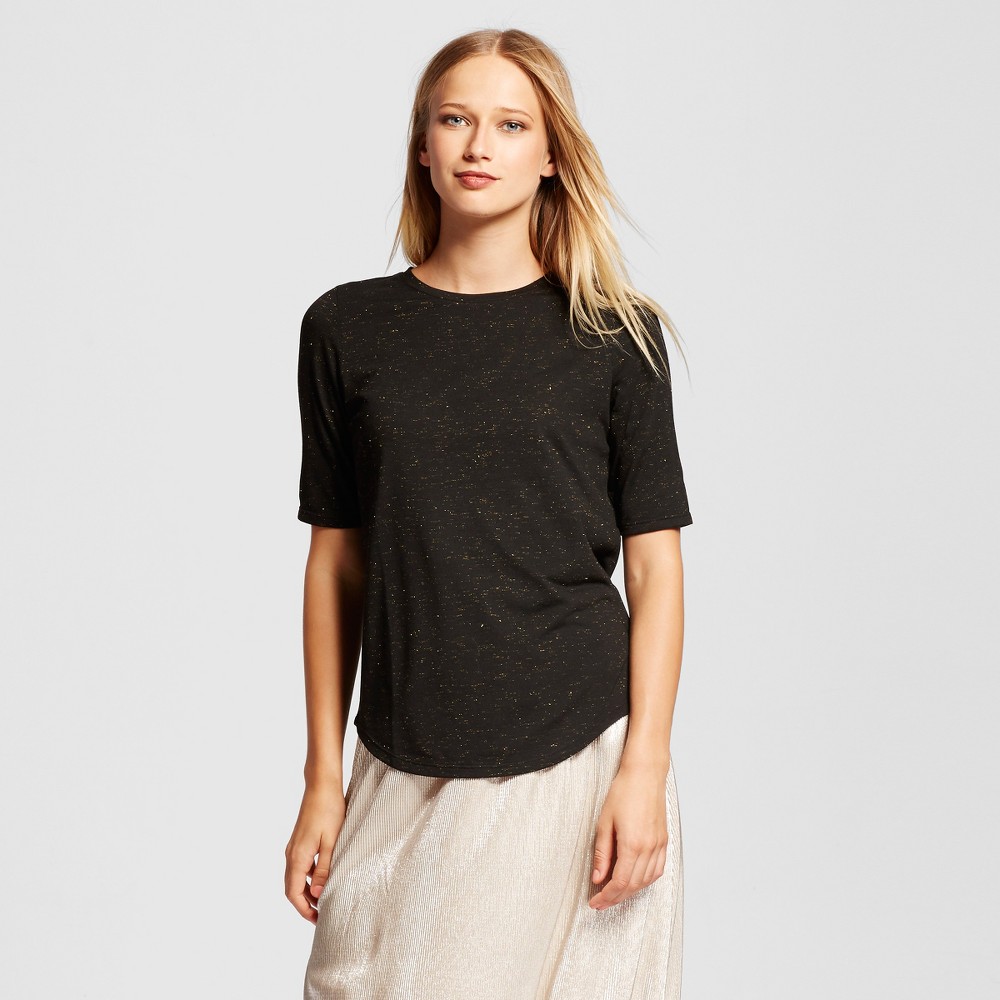 I also snagged this Dex Split Back Tee ($34 from Lily Rain). I'm often wary of white T-shirts, but the long cut and extended slit on the back of this one ended up looking slimming. I always wear it with a black top underneath to contrast and minimize.
Yves Saint Laurent Forever Light Creator CC Primer in Apricot
I decided to try Yves Saint Laurent 'Forever Light Creator' CC Creme Colour Corrector SPF 35 ($45 from Nordstrom) after running out of my favorite oil-reducing primer for summer and wanting something a bit more luxurious and moisturizing for winter. The description says the product color corrects irregularities and diffuses light while improving skin's texture. All I can say is this product makes my skin look great. I have applied it without foundation when I'm in a hurry or used it as a base when I want a more flawless appearance. Either way it really does balance color imperfections and leave skin looking smooth and radiant. Plus, any product with added SPF makes me happy.
Make Up Factory
While waiting for a pedicure at the Boca Raton Resort's salon, I was attracted to a display featuring this cosmetics line I hadn't seen before. As it turns out, Make Up Factory cosmetics are made in Germany with the intent of enabling regular women to look their best with professional-grade makeup. I took home baked eye shadows in Golden Terra and Amazonian Green.
So far I'm liking the pigmentation and the fact that they can be applied as-is or wet for a darker, more long-lasting appearance.
In addition, I am liking the Lash Explosion Mascara, which really does seem to curl and highlight lashes. When applied in several coats with short breaks in between as recommended on the package, it also creates dramatic length.
Keratin Complex Blondeshell Debrass & Brighten Shampoo & Conditioner
Also on my recent trip, I ran out of shampoo and conditioner, so I decided to pick up this Keratin Blondeshell Keratin Complex Travel Valet Kit for Unisex
($16 on Amazon) in the hotel salon. I originally had scheduled a hair appointment for the week of my trip, but had to push it back. This meant my color wasn't looking so great. One wash with the fade-fighting complex in this purple shampoo/conditioner combination, which includes chamomile to help neutralize brassiness, keratin and amino acids to help improve hair's strength and resilience, and avocado oil to boost hair health, and I felt like my color looked fresh and new.
Plans to purchase full-size bottles are already in the works. Just check out this photo. Would you guess my hair is in desperate need of a touch up?