Disclosure: Some of the links below are affiliate links, meaning, at no additional cost to you, I will earn a commission if you click through and make a purchase.
Of course I love a high-end jewelry splurge. Whether it's diamonds, high-end designer or a handcrafted piece by an emerging artist, I do believe in spending on the right pieces because if you take care of them they last forever. That said, when it comes to jewelry fads, I also love a good deal. There are key pieces that emerge every season in versions ranging in price from $2,000 to $12—the savvy shopper's goal is to find the $20ish version that doesn't look all that different from the $200 version. And Target just made that much easier.
Meet SUGARFIX by Baublebar
SUGARFIX by Baublebar is a selection of jewelry that's just as stylish as the original Baublebar website and at a nice price point—all pieces are less than $30. I ended up checking out the selection when I spied a pair of tassel earrings online and was intrigued. I would have guessed the nicely strung beads with rhinestones at the top were from a small boutique. Nope, they were $12.99 from Target. Umm order me a pair now. Actually, make that two pairs and put them on the Target card to save an extra 5 percent, thank you very much.
Pictured above are the Magenta Tassel Earrings and the Turquoise Beaded Tassel Earrings, both only $12.99.
When the earrings arrived, I was pleasantly pleased with the quality.
Here are some other SUGARFIX by Baublebar pieces I'd suggest for your Spring wardrobe:
Yet another tassel earring option, I love some of these color combinations. This pale pink/light blue pair seems perfect for warm weather (12.99).
These Statement Drop Earrings ($12.99) have a luxe feel, making them seem much pricier than the $12.99 price tag. What, did you say the style is outside your comfort zone? A price tag under $15 is the time to try something new!
Put this necklace ($29.99) over any basic T-shirt or little black dress and you've got an outfit people will stop you in the street and compliment you on. No accessory stress necessary.
The pink tint on the stones in this necklace ($19.99) is fun and the unusual shape gives a hint of vintage elegance.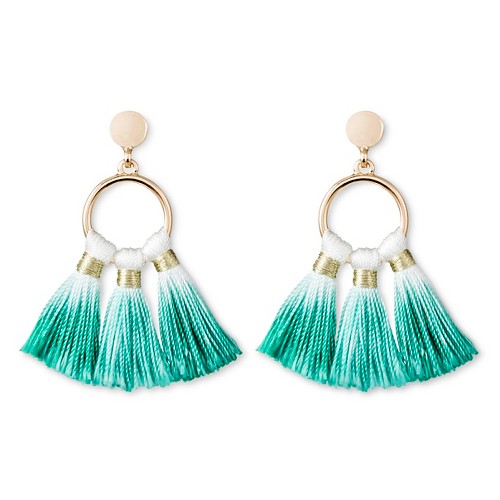 These earrings ($12.99) have a relaxed, bohemian vibe that will add color to classic office outfits and look glamorous with a swimsuit for pool parties this summer.